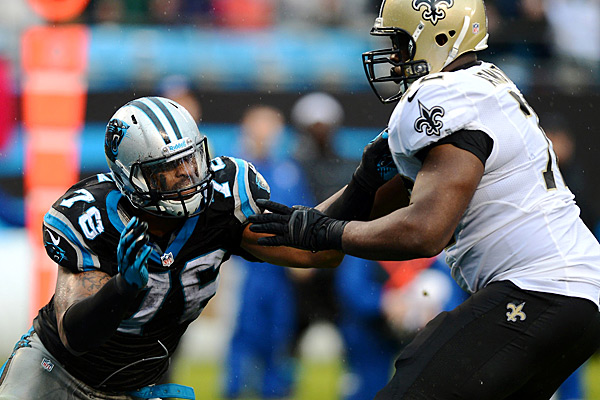 The offensive line in 2013 was a complete mess until late in the season. Then something weird happened. The Saints made the move to have Terron Armstead replace Charles Brown at left tackle, the team started to run the ball not only more but more effectively, and that unit ended the year on a real high note. By the end of the playoffs the line almost felt like a strength on the team. Traditionally the Saints have struggled to retain their key offensive linemen in the Sean Payton era. Give the team credit for retaining key players that hit free agency looking for big contracts over the years (Drew Brees, Lance Moore, Pierre Thomas, Roman Harper, Marques Colston, Jahri Evans, Will Smith and Jonathan Vilma to name a few), but they've been able to do that at the expense of losing guys up front. Jeff Faine, Jonathan Goodwin and Carl Nicks have all left the team for major deals with other teams in the last several years. With the offensive line being weaker this past year than in any previous season in the Sean Payton era it seems counter intuitive to think that continuity is so important. But with the Saints feeling better at left tackle now that Terron Armstead is in place, I'd argue the Saints are just fine with the starters. It's the depth that's a real issue. So the Saints need to re-stock with quality development and talent that can step in if an injury were to happen. Of course this all assumes the holes don't get bigger with the possible departures of Zach Strief and/or Brian de la Puente.
Players currently under contract: Terron Armstead, Carl Nicks, Jahri Evans, Bryce Harris, Marcel Jones, Tim Lelito, Ty Nsekhe, Senio Kelemente
Free Agents: Charles Brown, Zach Strief, Brian de la Puente
To me it's a major concern if either of Strief or De la Puente is lost in free agency.
no comments